---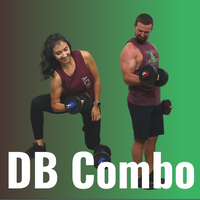 This is dramatically different from other workout programs you'll see because it has actual follow-along workouts that DJ and Jen lead you through as your trainers.
The reason why is because we know how tough it is to have only a list of exercises and actually do them... especially when you have kids running around or you're dead tired after a long day at work. 
Instead, we are in the trenches with you, keeping you motivated, telling you what to focus on, how to use the correct form, and sweating it out every workout.
Plus, exercise is much easier when you have someone there with you…Virtually or in Reality.  
The DB Combo Program is inside of the ACHV PEAK Community and even has a private group discussion board with other people just like you sharing their wins, their setbacks, and selfies of their drenched shirts and smiles of gratification to keep you motivated and pushing yourself!
Upon purchase, you'll receive a confirmation email with links to create your Community account (if you don't already have one), gain access to the program, and our personal email so you can contact us with any questions you might have along the way.
Don't forget that you get LIFETIME ACCESS to the DB Combo Program.
Lastly, The DB Combo Program Features PRIVATE WORKOUTS not available anywhere but in this program! Over 85% of the program is private videos that are not available on our YouTube Channel publicly. 
With DB Combo You'll Get
A Program that WILL help you lose weight and get stronger with a total of 23 workout, flexibility and warm-up routines.

12-weeks worth of delicious and healthy recipes that include break, lunch, dinner, and snacks with pictures, instructions, shopping lists, weekly calendars, and macronutrient breakdowns.

​Workouts that can be done anywhere using only your dumbbells

​Tips and How-To videos for using your workout log, tracking your progress, and more

​Videos showing you how to set up and CRUSH your goals

​Lifetime Access with NO RECURRING COSTS (YES, a one-time payment)
All of This is Inside DB Combo
12-Weeks of Private Follow Along Workouts

($1800.00 Value)

​Email Access To ACHV PEAK

($697.00 Value)

​Customized options based on your goals

($97.00 Value)

​12 Weeks Worth of Meals plans

($84.00 Value)

​Printable tools to help you ACHV More

($27.00 Value)

​Nutrition Guide For Nutrient Timing and Marcos

($17.00 Value)
Frequently Asked Questions
•
Are these the same videos on their channel?
Over 80% of the videos on the DB Combo Program are private videos that cannot be seen or found on our Public YouTube Channel. Some of the videos in the program are used on our Public Channel for marketing purposes. 
Almost all of the supplemental content is private as well. 
Plus sometimes, when people have questions inside of the program we make a quick video discussing it. These videos are only for our community members
•
How does DB Combo Compare to other programs or memberships?
DB Combo is a follow along program - aka we are doing the workouts with you real-time. There are very few, if any, existing resistance band programs like this. 
Most programs give you some sort of PDF with a list of workouts to do and have the exercises listed with sets and reps. This leaves you doing the workouts on your own… Not cool. While we do include a PDF like that we also have all of the workout videos available for you. 
•
Is this a Fly by night marketer just trying to make money?
ACHV PEAK came to life in 2017 with the birth of our first son, David Cash, and you can see that we have been making workouts and other content on YouTube since.  We consistently connect with our subscribers through the comments and community tab. 
We also have a Facebook page where we consistently engage with our community. DJ and Jen are the creators of ACHV PEAK and are a family-focused husband and wife with two boys, Cash and Xander, and one big fluffy sheepdog named Bruce. You'll see the entire family from time to time in our videos. 
•
How Is the DB Combo Program Delivered?
The DB Combo Program is a digital-only workout routine program. Once you place your order you will receive a confirmation email with clickable links to create your member account, join the private Facebook Group, our email, as well as links to the downloadable and printable content. 
All of the video workouts, program overview, downloadable and printable content, and information is on the dedicated DB Combo website as well as on the DB Combo Facebook group. We have also included a printable PDF complete with all of the program workouts, links to videos, workout and program breakdown, and more.  
Note: The DB Combo program does not come with dumbbells.
•
How Long Do I get Access to The DB Combo Program
Upon placing your order you get lifetime access to the DB Combo Program. We have had members go through the program multiple times.
Quick Tip: Order two or three programs and you can alternate between them for a lifetime and never need to order another program! We are here to help you be successful, not make a quick buck. 

You can find the DB Combo Program Here 
DB Combo Refund Policy: We deal with every refund inquiry on a case-by-case basis, so if in the unlikely event that the product you purchased does not meet your expectations, please let us know within 5 days of the sale date. Refunds are not guaranteed and a credit to another product may be issued instead of a full refund. please email us at support@achvpeak.com and state the reason you are requesting a refund.