---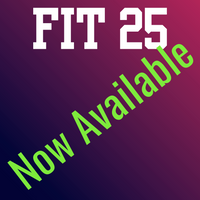 Sale
25 Minutes.
That's all you need.
The FIT 25 program was created to help you ACHV your PEAK by getting in the best shape you can in only 25 minutes per day.
The workouts might be short but don't mistake that for easy. We've taken workouts that are typically 35 to 40 minutes long and compressed them into 25-minute workouts.
This allows you to get the best fitness bang for your buck without feeling like you have to sacrifice the time you want to spend on other important things.
The FIT 25 program is designed for busy moms, dads, businesspeople, or anyone who wants to improve their health but have so much on their plate already.
AKA this program is for people who want to have their cake and eat it too!
The FIT 25 program is a 4-week workout program featuring 14 workouts. The schedule is 4-6 workouts per week with each workout being 25 minutes in duration.
Will it be easy? No.
Will it be worth it? Yes.
FIT 25 Program Details
Quick Details:
Focus: Fat Loss, Strength, Muscle Building, Toning, Better Overall Fitness and Health

Program Length: 4 Weeks

Experience Level: Beginner to Advanced. This program features some workouts with short rest times. Typically, the follow exercises are cardio so you will not have to rush to pick your next weight or band.

Impact Type: Low to High Impact. Low Impact Options are provided for most workouts. This program includes cardio and HIIT Workouts that are considered high Impact.

Equipment: Bands or Dumbbells,

Training frequency: 4 - 6 days per week.

Average Workout Duration: 25 Minutes.
Product Delivery Method:
Digital: This is a digital-only workout program. There is nothing that gets mailed upon the purchase of this product.

Platform: ACHV PEAK Community via private YouTube videos for the bands and dumbbell workouts. The videos can be cast to a TV by using a smartphone, tablet, desktop, or laptop. To play these videos from the YouTube app on your smart TV you will have to create a personal playlist on your YouTube account. Otherwise, you will not be able to find the videos.

Gym/Barbell options will come with printable workout logs.
Access Duration:
Lifetime* Access: You will get lifetime access to the program through the ACHV PEAK community if you follow the rules and guidelines of the community. Failure to follow the guidelines can result in the removal of the group and loss of access.
Product Details:
4 Weeks of follow-along Strength Training, Volume training, HIIT, cardio, core, and Flexibility Routines

Program Schedule with Links to Workouts for quick and easy access.

Workouts listed with embedded YouTube videos, Overviews, and Exercises for convenient planning

Access to DJ and Jen to ask questions and get assistance.

Access to the program Discussion Board and ACHV PEAK community and meet other people just like you who are following the same program.

Printable Tools to help you ACHV more 
** Frequently Asked Questions **
- CAN THIS BE WATCHED FROM THE YOUTUBE APP ON MY SMART TV?
Yes! The videos in this product are hosted on YouTube as private videos.
- CAN I CAST THIS TO MY TV OR PROJECTOR FROM A SMARTPHONE, TABLET, DESKTOP, OR LAPTOP?
Yes. These videos can be cast. How to cast depends on the devices you have.
- HOW DO I BECOME A MEMBER OF THE ACHV PEAK COMMUNITY?
Upon purchase of a program or workout pack, you will be automatically signed up as a member. You will receive an email with details on accessing your member account. If you do not receive an email within 10 minutes of your purchase, please check your junk/spam/bulk mail folders. If you still do not see it, please email us at support@achvpeak.com.
- HOW DO I ACCESS MY PURCHASE?
You access your purchase on the ACHV PEAK Community website at community.achvpeak.com. You will receive an email with the details of how to log in to your account and access your purchase. Current members can log into their account and access their purchase immediately.
- WHERE DO I FIND THE WORKOUTS ON THE ACHV PEAK COMMUNITY?
The FIT 25 Program is found in the community. Navigate to the left sidebar, locate, and click "FIT 25 Program". You can then bookmark the page on your Internet Browser for easier access.
If you have purchased the FIT 25 Program but do not have access, please be sure to be logged in.
NOTE: If you still do not have access, please email us support@achvpeak.com with a screenshot and explain what is happening so we can solve the issue. Be sure to include your order number and email you used to purchase the program with.
Refund Policy: We deal with every refund inquiry on a case-by-case basis, so if in the unlikely event that the product you purchased does not meet your expectations, please let us know within 5 days of the sale date. Refunds are not guaranteed and a credit to another product may be issued instead of a full refund. please email us at support@achvpeak.com and state the reason you are requesting a refund.