---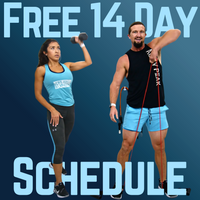 This 14-Day Free Workout series is designed to do two things:
1) Take you through a specially curated "micro-cycle" workout program aimed to help you build muscle and lose body fat.
 
2) Allow you to sample the various options we have in our paid programs without having to purchase each of them to see what you're getting.
This series is also a great way to get going and create a habit if you're just getting started with exercise or getting back into it after an extended break. All you need is resistance bands OR dumbbells. This series does feature longer duration workouts in the 25-35 minute range. If you feel that duration is longer than you'd prefer at the moment be sure to check out our 31 Days of Fitness Series here. 
While 14 days is enough time to accomplish some results it will not accomplish all of your fitness goals. This mini-series should help you to start seeing some changes and allow you to decide on the program you would like to follow to help you achieve your fitness goals. 
The 14-Day Free Workout Series Schedule:
Day 1: Full Body Giant Set & Cardio Burst Workout
Day 2: Intense Cardio and Abs Workout at Home
Day 3: Upper Body Superset Workout w/ Burnout
Day 4: Legs & Glutes Complex, Clusters, & Finisher
Day 5: 15 Minute Abs workout
Day 6: Full Body EMOM Workout
Day 7: Flexibility Routine
Day 8: Full Body Straight Set Workout - Focus on Major Muscles (Go Heavy!)
Day 9: Biceps and Triceps Lean Booster
Day 10: Chest & Back Drop Set Workout + Cardio
Day 11: Legs & Arms Lean Booster
Day 12: Cardio In/Out Abs Workout
Day 13: Full Body Tri-set Strength Training workout
Day 14: Abs & Flexibility Routine
Bonus Day: Lean Booster X p[MASS] - Volume Training Workout
When you sign up for this series, you will be granted access to it in the ACHV PEAK community where you can see all of the workouts, links, workout details, and follow-along workout videos.
You will also receive an email with details on how to log in and access the series. 
Each day you will receive an email with the workout you will be doing that day. 
Customer Reviews
03/09/2023
#6591 M.

Namibia
Excellent program which really pushes you out of your comfort zone. I really enjoyed the burn and the pain but it was worth it.