---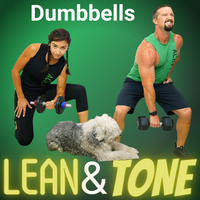 Now Available!

If you're looking to burn some serious fat to get lean and you're not afraid of cranking up the intensity, you've found the right program.

Lean and Tone ("LnT" for short) is an 8-week get-lean and still making those muscles pop program. Most people think you can lose weight or build muscle. We say, why not both?

LnT isn't easy, but you're not looking for easy. You're looking for results. Beginner or advanced, male or female, this program is designed to get you Lean and Tone in a short period of time.
How does the Lean and Tone Program Get Results Quickly?
By utilizing a Workout style we like to call a Lean Booster Workout. Lean Booster workouts combine resistance training and cardio to keep your heart rate high while still focusing on pumping your muscles up. This maximizes fat burn while still allowing you to build quality muscle.
Turn up the After Burn for More Fat Loss
Yeah sure, burning calories during a workout is important. But what's more important is how many calories you're burning outside of your workout.
Want to know how to burn more calories post-workout?
It's simple. Lift. Heavier. Weight.
The Lean Booster Workouts allow you to burn massive amounts of calories during the workout (from the cardio exercises) AND keep burning calories after your workout (from the resistance training exercises).
There's one catch though.
What's The Catch?
YOU have to PUSH YOURSELF and keep the intensity high. That's the only catch. If you can do that then you're ready to get to work!
Lean & Tone Program Details
Quick Details:
Focus: Body Fat Loss, Toning, muscle development
Experience Level: Beginner to Advanced.
Impact Type: Mid to High Impact. Low Impact Options are provided for most workouts. This program includes cardio and HIIT Workouts that are considered high Impact.
Equipment: Dumbbells
Training frequency: 5 to 6 days per week. Rest days typically include a warm-up and flexibility routine.
Average Workout Duration: 20 - 40 Minutes.
Product Delivery Method:
Digital: This is a digital-only workout program. There is nothing that gets mailed upon the purchase of this product.
Platform: ACHV PEAK Community via private YouTube videos. These videos can be cast to a TV by using a smartphone, tablet, desktop, or laptop. To play these videos from the YouTube app on your smart TV you will have to create a personal playlist on your YouTube account. Otherwise, you will not be able to find the videos.
Access Duration:
Lifetime* Access: You will get lifetime access to the program through the ACHV PEAK community as long as you follow the rules and guidelines of the community. Failure to follow the guidelines can result in the removal of the group and loss of access.
Product Details:
8 Weeks of follow-along resistance training, HIIT, Lean Booster, cardio, core, and Flexibility Routines
Program Schedule with Links to Workouts for quick and easy access.
Workouts listed with embedded YouTube videos, Overviews, and Exercises for convenient planning
Access to DJ and Jen to ask questions and get assistance.
Access to the Lean and Tone Discussion Board and ACHV PEAK community and meet other people just like you who are following the same program.
Printable Tools to help you ACHV more 
** Frequently Asked Questions **
- Can This be watched from the YouTube app on my smart TV?
Yes! The videos in this product are hosted on YouTube as private videos.
- Can I cast this to my TV or Projector from a smartphone, Tablet, Desktop, or Laptop?
Yes. These videos can be cast.
- How do I become a member of the ACHV PEAK Community?
Upon purchase of a program or workout pack, you will be automatically signed up as a member. You will receive an email with details on how to access your member account.
- How do I access my purchase?
You access your purchase on the ACHV PEAK Community website at community.achvpeak.com. You will receive an email with the details of how to log in to your account and access your purchase. Current members can just log into their account access their purchase immediately.
- Where do I find the Workouts on the ACHV PEAK Community?
The Lean & Tone Program is found in the community. Navigate to the left sidebar, locate and click "Lean & Tone - Dumbbells". You can then bookmark the page on your Internet Browser for easier access.
If you have purchased the Lean & Tone Program but do not have access please be sure to be logged in.
NOTE: If you still do not have access please email us support@achvpeak.com with a screenshot and explain what is happening so we can solve the issue.
Refund Policy: We deal with every refund inquiry on a case-by-case basis, so if in the unlikely event that the product you purchased does not meet your expectations, please let us know within 5 days of the sale date. Refunds are not guaranteed and a credit to another product may be issued instead of a full refund. please email us at support@achvpeak.com and state the reason you are requesting a refund.
Customer Reviews
09/16/2021
linda

France
havent purchased yet
I have been following the program on youtube for 6 weeks now I am 64years old and i love it however each week i do one upper body dumb bell and one lower body in between a do brisk walking or running. The results just following your you tube videos is amazing i dont like to life to heavey weights but i do want to be lean. i am 164 CMS tall and I weigh 66.5 kgs. will the workout plan give me a more structured program to follow? I happy to purchase if its the case but i am limited to 2-3workouts per week i really dont want to do more waiting to hear. linda