---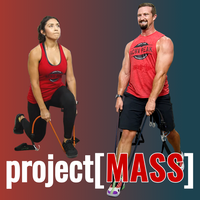 Home Workouts that build size sound like a fairytale, right? Well, think again. 
Project[MASS] is a 6-week program designed to do one thing - BUILD MUSCLE. (Ladies please see the note at the bottom of the page.)
What does this mean to you?
You don't need a ton of weight or resistance to build size - You need volume and this program has it.
Shock your muscles into growing by using training methods you've probably never used or have rarely used.
You only need 6 weeks of training to make results happen
You will be training fast- and slow-twitch muscle fibers to failure. This is great for everyone from athlete to home gym warriors. No matter what this program will take your game to the next level.
Increase muscular endurance and conditions with shorter rest periods (this is one of a few beneficial side effects)
You WON'T be working out for hours on end to get results


Project[MASS] combines two different types of high volume training to help you shock your muscles into growth. Not only will your muscles grow in size but they'll also get stronger by necessity. Consider it a two for one deal.

We start off with the Ten Set Method (TSM), 10x10, commonly known as German Volume Training (GVT), that is used to shock the muscles. 10x10 means 10 sets of 10 repetitions for a total of 100 repetitions per exercise. This method was first used in German powerlifters to grow in size in the offseason so they could move up in weight classes (increased size and strength). It's a fantastic way to build size when used infrequently.

To Step it up a notch we included a few bouts of Hundreds training. What is the hundreds Training? The hundreds Training method is literally a set of 100 reps… in a row…or as few as possible. There are no specific breaks like you get with TSM at every 10 reps. Sounds Crazy? Great! That's the plan. The idea is to do 100 reps in a row or with as few breaks as possible. How often do you incorporate that into your workout routines?? And that's exactly why it works- you never do it.


Quick Details:
Focus: Increased Muscle Mass (You Will Also Get Stronger!)

Experience Level: Beginner to Advanced

Program Length: 6-weeks

Impact Type: Low Impact

Equipment: Resistance Bands

Training Frequency: 3 to 4 times per week

Average WO Duration: 25+ Minutes Per Day
Program Delivery Method:
Project[MASS] Is a 100% Digital Program. There are no physical items to be shipped or received.
Platform: Project[MASS] is available through the ACHV PEAK Community Website after the purchase of the program is made.
Access Duration:
Lifetime Access with the purchase of the program.
Program Includes Details:
There Are Currently 19 Workout videos that make up Project[MASS] Program

2 Warm-up Routines (This is still In Development and not yet available)

2 Flexibility Routines: 1 Lower body & 1 Upper body Routine

2 Core (Abs) Workouts: (This is still In Development and not yet available)

1 Cool-Down Routine
Note for women worried about getting bulky: If you're scared of the name [MASS] don't be. Do you know what BUILD MUSCLE means for women? It means more toned and more defined arms. A well-developed backside and thigh's to be proud of. A sleek back that raises eyebrows when you choose to show it off in a backless shirt or dress. For almost all women MASS = BUILD MUSCLE = TONED & DEFINED BODY = SEXY…. NOT BULKY
Let me put this another way for the mothers reading this. You know how when you have a baby and you're stuck carrying baby around on your hip all day because dad is the master of excuses for not having to carry the baby? And after a few months of the baby being carried around you all of a sudden start getting compliments on your "guns" and even you notice the definition in your arms even though you haven't been exercising them? Yeah, you pretty much followed high volume training to get those great results. As you can see, there is no reason to worry about "getting huge" or having "bulky muscles". Instead, you're going to build a body to be desired. Oh and I just gave you a reason to make dad hold baby - " Hey Honey, hold the baby because your arms are looking small and you could use a few reps to pump them up."
** Frequently Asked Questions **
- Can This be watched from the YouTube app on my smart TV
Yes! The videos in this product are hosted on YouTube as private videos.
- Can I cast this to my TV or Projector from a smartphone, Tablet, Desktop, or Laptop?
Yes. These videos can be cast.
- How do I become a member of the ACHV PEAK Community?
Upon purchase of a program or workout pack, you will be automatically signed up as a member. You will receive an email with details on how to access your member account.


- How do I access my purchase?
You access your purchase on the ACHV PEAK Community website at community.achvpeak.com. You will receive an email with the details of how to log in to your account and access your purchase. Current members can just log into their account access their purchase immediately.


-Where do I find the Workouts on the ACHV PEAK Community?

The Project[MASS] Program is found in the community. Navigate to the left sidebar, locate and click "RB Project[MASS]". The Project[MASS] is located in this area. You can then bookmark the page for easier access.

If you have purchased the Resistance Band Project[MASS] Program but do not have access please be sure to be logged in.
  
NOTE: If you still do not have access please email us support@achvpeak.com with a screenshot and explain what is going happening so we can solve the issue.
 
 
 

Refund Policy: We deal with every refund inquiry on a case-by-case basis, so if in the unlikely event that the product you purchased does not meet your expectations, please let us know within 5 days of the sale date. Refunds are not guaranteed and a credit to another product may be issued instead of a full refund. please email us at support@achvpeak.com and state the reason you are requesting a refund.
 
 
*Lifetime means while ACHV PEAK is in business… and we don't plan on going anywhere anytime soon!