---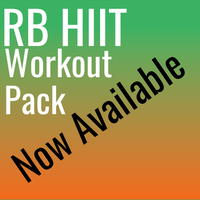 The RB HIIT Workout Pack is a High-Intensity Interval Training (HIIT) workout collection designed to torch body fat, tone your muscles, and increase your cardiovascular capacity through reduced rest periods and alternating between cardio and resistance training movements. By increasing the resistance used during the workouts you can also significantly increase your strength too.
What does this mean for you?
It means that you can re-shape your body by doing a single type of workout because you'll be burning loads of calories, increasing your metabolic rate for hours after (more fat burning effects!), building and toning muscle from doing the resistance training exercises, and more!
Why do we love HIIT Workouts?
You can burn more calories in the same amount of time when compared to traditional resistance training or steady-state cardio.

It's perfect for a busy schedule… and we're parents and both have jobs... Aka we ain't got no time! Think of our HIIT Workouts as cardio and resistance training combined!

HIIT is great for your heart!

It can increase your metabolic rate for hours after your workout… steady-state cardio cant do that. This means that you're burning more calories overall after your workout is done and you're resting.

HIIT Workouts can produce a bunch of physiological benefits including increased mitochondrial density, improves stroke volume (heart health), increased oxidative capacity of your muscles (healthier muscles), and improved aerobic efficiency (endurance).

You feel accomplished when you're finished! Nothing feels better than feeling like you crushed a workout and gave it all you had. HIIT workouts are known for that "yeah I'm exhausted but man I just killed it" feeling!
Quick Details:
Focus: Body Fat Loss, Toning, stronger muscles, anaerobic endurance (high Intensity).
Experience Level: Beginner to Advanced
Program Length: N/A. Workouts can be used to create a personalized program for months.
Impact Type: High Impact. There are few low impact modifications provided in some of the workouts.
Equipment: Resistance Bands - Tubes w/ handles
Training Frequency: The Consumer creates their own program. It is suggested that no more than 3-4 HIIT workout sessions are performed in a single week due to the stress these workouts put on the body. Allow for adequate rest periods between HIIT sessions.
Average Workout duration: 36 - 40 minutes each.
Product Delivery Method:
Digital: This is a digital-only Workout Pack. There is nothing that gets mailed upon the purchase of this product.
Platform: ACHV PEAK Community via private Vimeo videos.

Note:

These videos are not available on YouTube at all.

These videos can be cast to a TV by using a smartphone, tablets, desktop, or laptop. You will not be able to pull up the YouTube app on your smart TV and play these.
Access Duration:
Lifetime* Access: You will get lifetime access to the program through the ACHV PEAK community as long as you follow the rules and guidelines of the community. Failure to follow the guidelines can result in your removal of the group and loss of access.
Product Details:
7 Resistance Band HIIT Workouts:

3 Full Body Workouts

1 Push Workout - Chest, Triceps & Shoulders

1 Pull Workout - Back, Biceps & Abs

1 Legs Workout

1 Upper Body Workout
The full-body workouts are set up as follows:

12 Exercises performed in Tri-sets

4 sets of each Tri-set

30 sec on // 15 sec off // 30 sec extended breaks

Duration: 36:30
All other workouts are set up as follows:

12 Exercises performed in Tri-sets

4 sets of each Tri-set

30 sec on // 20 sec off // 30 sec extended breaks

Duration: 40:10
** Frequently Asked Questions **
- Can This be watched from the YouTube app on my smart TV?
No. The videos in this product are hosted on Vimeo and cannot be found on YouTube.
- Can I cast this to my TV or Projector from a smartphone, Tablet, Desktop, or Laptop?
Yes. These videos can be cast.



- How do I become a member of the ACHV PEAK Community?
Upon purchase of a program or workout pack, you will be automatically signed up as a member. You will receive an email with details on how to access your member account.



- How do I access my purchase?
You access your purchase on the ACHV PEAK Community website at community.achvpeak.com. You will receive an email with the details of how to log in to your account and access your purchase. Current members can just log into their account access their purchase immediately.



- Where do I find the Workouts on the ACHV PEAK Community?
The RB HIIT Workout Pack is found in the community. Navigate to the left sidebar, locate and click "Workout Packs". The RB HIIT Workout Pack is located in this area. You can then bookmark the page for easier access.




If you have purchased the RB HIIT Workout Pack but do not have access please be sure to be logged in.



NOTE: If you still do not have access please email us support@achvpeak.com with a screenshot and explain what is going happening so we can solve the issue.
Refund Policy: We deal with every refund inquiry on a case-by-case basis, so if in the unlikely event that the product you purchased does not meet your expectations, please let us know within 5 days of the sale date. Refunds are not guaranteed and a credit to another product may be issued instead of a full refund. please email us at support@achvpeak.com and state the reason you are requesting a refund.
*Lifetime means while ACHV PEAK is in business… and we don't plan on going anywhere anytime soon!