---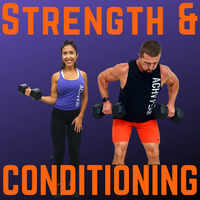 NOW AVAILABLE!

Strength At Home. Yes, I said that. No, it's not a joke.
Get stronger, Drop a little Body Fat, Change the way you look.
That's the goal of the Strength and Conditioning Program.
Are you ready to embrace the burn and push your limits?
The S&C Program is tough. But you're tougher and determined to get results. This program is equally mentally tough as it is physically. Are you ready to step your training up a notch?
How does the Strength & Conditioning Program Get Results?
This program uses multiple training styles to get results - Complexes, Cluster training, Drop sets, HIIT, HIT, Negatives, Cheat Reps, Giant Sets… You name it.
Maybe you don't have super heavy weights at home. That's ok, we planned for it.
By pre-exhausting a muscle, you reduce the muscles' ability to perform work at maximal output. In this instance, that's the plan. By reducing maximum output we can train the muscle using lighter weights while still getting the results as if we were using heavier weights.
Another way we accomplish strength with lighter weights is by increasing overall volume (reps) and taking the muscle to or past failure. This overloading method is sure to build strength and muscle size!
Strengthen Your Mind, Strengthen Your Muscles
There is one important factor when it comes to building strength using the methods listed above.
You WILL have to push past what you think is your limit. I assure you that when your muscles burn you're your mind is saying "stop, we're done" you have plenty left in the tank.
This program requires you to callus your mind and push through the mental barriers you've set for your muscles.
Do this, and you will repeat the rewards of your efforts. Give up early each set and your results will be minimal. Bottom line, give it everything you have and push yourself every single set, every single rep.
There's one catch though.
Did you read the information above or did you skip over that? Give it a look if you skipped it! I'm on to you…
Strength & Conditioning Program Details
Quick Details:
Focus: Strength, Conditioning, Body Fat Loss
Experience Level: Beginner to Advanced.
Impact Type: Mid to High Impact. Low Impact Options are provided for most workouts. This program includes cardio and HIIT Workouts that are considered high Impact.
Equipment: Dumbbells
Training frequency: 5 to 6 days per week. Rest days typically include a warm-up and flexibility routine.
Average Workout Duration: 28 - 40 Minutes.
Product Delivery Method:
Digital: This is a digital-only workout program. There is nothing that gets mailed upon the purchase of this product.
Platform: ACHV PEAK Community via private YouTube videos. These videos can be cast to a TV by using a smartphone, tablet, desktop, or laptop. To play these videos from the YouTube app on your smart TV you will have to create a personal playlist on your YouTube account. Otherwise, you will not be able to find the videos.
Access Duration:
Lifetime* Access: You will get lifetime access to the program through the ACHV PEAK community as long as you follow the rules and guidelines of the community. Failure to follow the guidelines can result in the removal of the group and loss of access.
Product Details:
12 Weeks of follow-along Strength Training, HIT, cardio, core, and Flexibility Routines
Program Schedule with Links to Workouts for quick and easy access.
Workouts listed with embedded YouTube videos, Overviews, and Exercises for convenient planning
Access to DJ and Jen to ask questions and get assistance.
Access to the Strength & Conditioning Discussion Board and ACHV PEAK community and meet other people just like you who are following the same program.
Printable Tools to help you ACHV more 
** Frequently Asked Questions **
- Can This be watched from the YouTube app on my smart TV?
Yes! The videos in this product are hosted on YouTube as private videos.
- Can I cast this to my TV or Projector from a smartphone, Tablet, Desktop, or Laptop?
Yes. These videos can be cast.
- How do I become a member of the ACHV PEAK Community?
Upon purchase of a program or workout pack, you will be automatically signed up as a member. You will receive an email with details on how to access your member account. If you do not receive an email within 10 minutes of your purchase please check your junk/spam/bulk mail folders. If you still do not see it, please email us at support@achvpeak.com.
- How do I access my purchase?
You access your purchase on the ACHV PEAK Community website at community.achvpeak.com. You will receive an email with the details of how to log in to your account and access your purchase. Current members can just log into their account access their purchase immediately.
- Where do I find the Workouts on the ACHV PEAK Community?
The Strength & Conditioning Program is found in the community. Navigate to the left sidebar, locate and click "DB Strength & Conditioning". You can then bookmark the page on your Internet Browser for easier access.
If you have purchased the Strength & Conditioning Program but do not have access please be sure to be logged in.
NOTE: If you still do not have access please email us support@achvpeak.com with a screenshot and explain what is happening so we can solve the issue.
Refund Policy: We deal with every refund inquiry on a case-by-case basis, so if in the unlikely event that the product you purchased does not meet your expectations, please let us know within 5 days of the sale date. Refunds are not guaranteed and a credit to another product may be issued instead of a full refund. please email us at support@achvpeak.com and state the reason you are requesting a refund.